Search results
Barilla Lasagne (500 g), €3.59
• AUTHENTIC ITALIAN TASTE: Made the same way it has been made for generations, using just 2 simple ingredients: high-quality, carefully selected durum wheat and water • READY IN 20 MINUTES: Perfectly al dente, our Lasagne pasta cooks in 20 minutes in the oven. There's no need for the pasta to be pre-cooked, making it ideal for both quick lunches and relaxing dinners • IDEAL WITH BARILLA SAUCES: Designed to pair perfectly with your favourite pasta sauces and any ingredients. Try Lasagne with Barilla Bolognese sauce • GREAT SOURCE OF ENERGY: Barilla pasta will help keep you fuller for longer and is a great source of energy and fibre • BARILLA SINCE 1877: An Italian family-run company that is the leader in pasta and ready-made sauces in continental Europe. Discover our range of pasta and sauces Making Italy's best pasta for over 140 years, Barilla's Collezione Lasagne gets its name from the Romans, who created the well-known wide flat sheets of pasta. Today, Lasagne is better known as the popular Italian dish made with layers of minced meat, cheese, and tomato. Use Barilla's Lasagne sheet to make this much-loved Bolognese variation or mix it up and make your own creation with Barilla Arrabbiata, Barilla Basilico or Barilla Pomodoro sauce. Part of our Collezione range for the perfect creative touch, elevate your kitchen skills with Barilla's Collezione Lasagne, which cooks in 20 minutes. Barilla Lasagne sheets do not require boiling before baking, simply preheat oven to 180°C, create your ideal layers and bake for 20 minutes. Cool for 10 minutes and serve. With a variety of shapes in our line of gourmet pasta, you're sure to cook quality ""al dente"" pasta every time. From our short pasta like Collezione Castellane or Orecchiette to long pasta such as Collezione Tagliatelle or Spaghetti Rigati, you're guaranteed to always get a perfect ""al dente"" bite. At Barilla, we are passionate about pasta and have been sharing our passion with the world since 1877. We believe that cooking for someone can be a true sign of love, told in a few minutes by preparing a beautiful dish of pasta for the people you care about most. At Barilla, we strive to make pasta and sauce products that are good for you and good for the planet. Barilla. A sign of love.​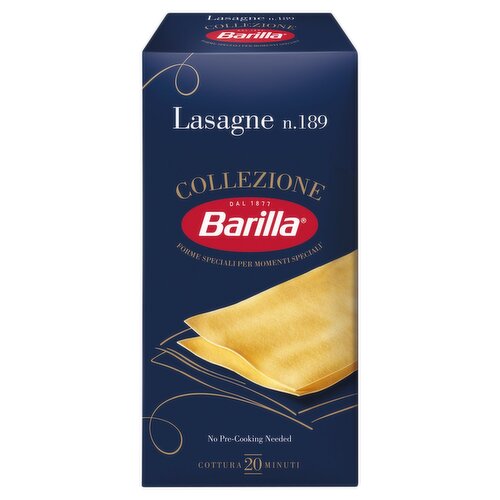 Barilla Lasagne (500 g)
Open product description
Roma Lasagne White Sheets (375 g), €3.35
Since 1951, Roma has helped families to fall in love with Italian food. Our passion for authentic Italian ingredients is at the core of everything we do. We pride ourselves on the quality of our products which help you to create simple, delicious meals that your whole family will enjoy.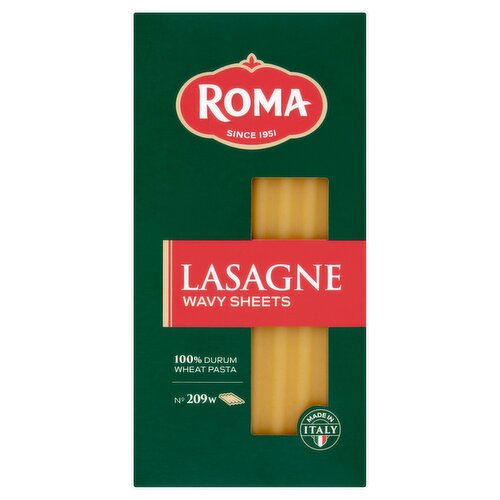 Roma Lasagne White Sheets (375 g)
Open product description
Can't find what you're looking for?