mints
Sugar Conf Std Lines (2)
Search results
Rowntrees Fruit Gums Vegan Tube (48 g), €1.00
Rowntree's® Fruit Gums are epically fruity-tasting gummy sweets in five delicious flavours. From lemon to lime, blackcurrant to strawberry, and lip-smacking orange, everyone will find their favourite flavour. We now have a Fruit Gums vegan formula with a softer chew, so more people can enjoy the fruity flavour! Bite into a Rowntree's fruit gum to release a burst of fruity flavour that lasts until the end. These vegan gummy sweets are so delicious, and we don't add any artificial colours, flavours, or preservatives. Savour and enjoy with the satisfyingly chewy fun of Rowntree's® Fruit Gums. These brilliant vegan chewy sweets are brought to you by Rowntree's®, the makers of the classic Fruit Pastille. The story begins in 1862, when Henry Rowntree bought a cocoa works in York and transformed it into a confectionery company. Fruit Gums were invented in 1893, and they've been a classic ever since. Along with other tasty sweets in the Rowntree's® family, these deliciously satisfying gums are a great way to enjoy a more colourful, fruity-tasting treat time.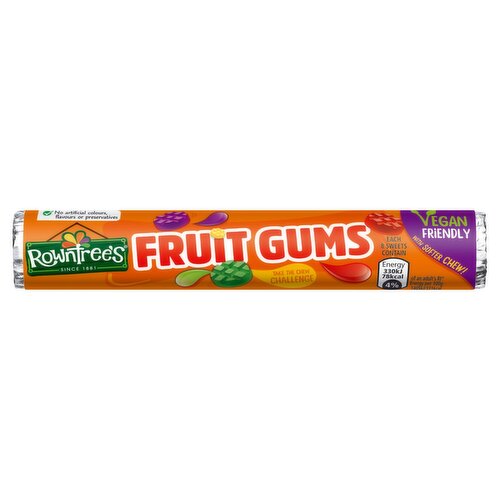 Rowntrees Fruit Gums Vegan Tube (48 g)
Open product description
Can't find what you're looking for?